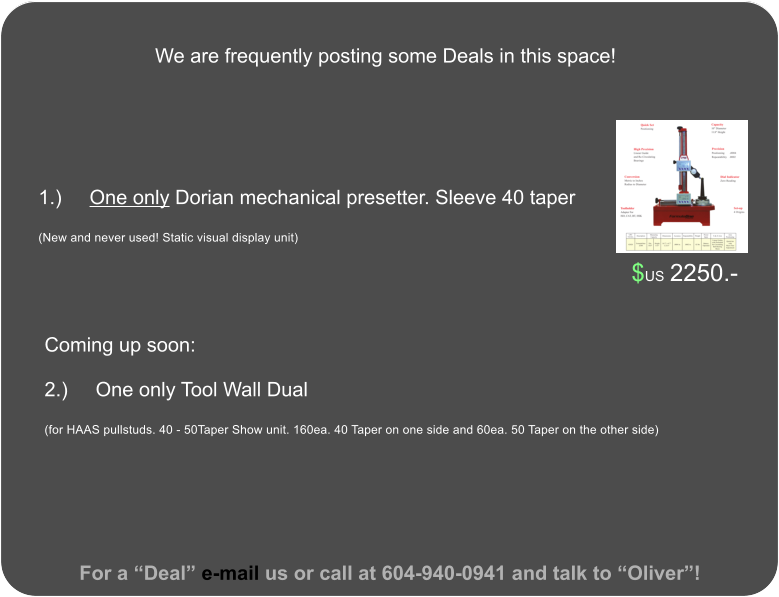 The program is written for touch screen and
keyboard-mouse operation. It is extremely flexible.
No need for you to discontinue "

Your System

".
Just use the sections that complements with what
you do and add to it at your pace and convenience.
Simply Powerful !
Note:

The software is part of our storage system.
You can download and use the software without having a
Tool Wall serial number. However there is a tool number
and machine number restriction, but

no time limit.
Start out for free. Expand at any time. Your data is kept.
To expand the system you need the serial number of one
of our storage systems. The software is not for sale but
can be used free of charge to complement your Tool Wall.
What is new?
We added more options to the offset uploading feature and
made the selection process simpler to operate.
In addition we reworked the UI and gave the program a
completely new and cleaner look.
For "New Users" we included a Sample Database on opening.
"Test and Play" with the program without having to learn how to
create tools and machines first. This sample database can be
modified to reflect your shop situation.
The new release incorporates our TWO-Kern. We have bin told
that Tool Wall with its 160 tools is too big for a lot of shops. The
TWO-Kern with a 60 tool capacity provides a smaller and more
affordable alternative that can expand with you growing.
Version 14.2.7 has been released!
Request a video link to us and we will be happy to demonstrate
the software. Click "Video Link" below for more information.
Wir zeigen Ihnen gerne die Funktion der Software über eine
Video Verbindung. Der "Video Link" Knopf verbindet Sie mit uns.
Write down this number.
You will need it to activate the program.
Tool Wall is the only

Shop Based

system available !
Tool Wall

received the

Award

of:
Canada's Smartest IT 2011
Supported OS:
XP, Vista, Windows 7
The software has to be updated once a year in order to work with the latest incorporated tool data from sponsors. Free updates are
available as of Oct. 7th every year

or

you can purchase an "

Unlimited Time

" license in which sponsor content can be toggled off.
Eventually you will have to manage your tools !
The earlier you start, the easier and better it is.
Your shop is not too small for it. You just need less
data to get going!